The end of April 2022 saw the launch of CCAP's new Algal Research, Innovation, and Environmental Science centre (CCAP-ARIES). The launch, which took place on the 27th of April, was a blended mini-symposium based at SAMS. There were in-person presentations that were also live streamed for remote viewing. The first presentation delivered by CCAP staff focused upon the new services that can be provided through the CCAP-ARIES centre, followed by presentations from industrial partners and service providers. There were tours and demonstrations of SAMS/CCAP facilities, before ribbon-cutting event to officially open the centre (Figure 1). Postgraduate students, closely aligned with algal research and CCAP, also gave presentations of their work. The event was concluded with a networking drinks reception and table-top demonstrations.
The full program and background information can be found by clicking the link to the CCAP-ARIES Launch Readymag.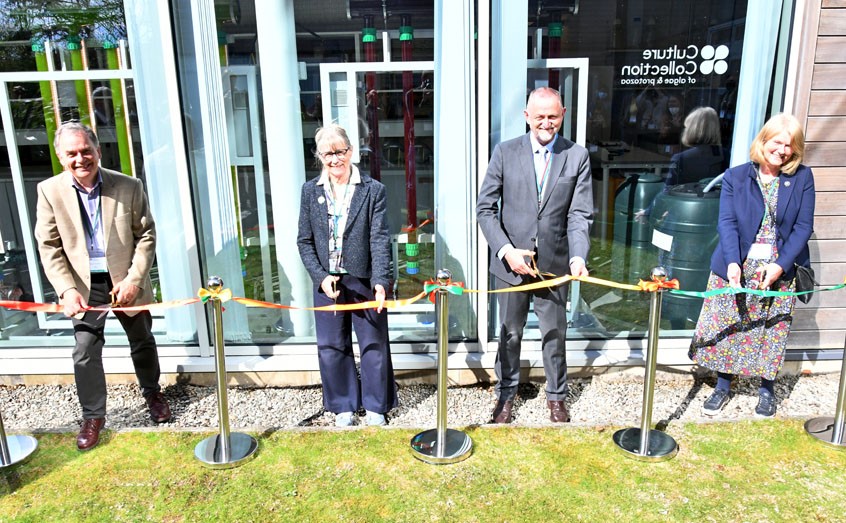 The launch had approximately 120 in-person attendees, and >100 people online. From a personal perspective, this launch event was a tremendous success, and I don't think that anything could have gone better on the day. I think that the success and positivity that was tangible during the day was a just reward for the huge amount of effort that the whole of the CCAP team have put in over the last 18 months, encompassing the initial proposal stage, delivery and installation, and organisation of the launch.
Post-event surveys were sent out, and the feedback has been overwhelmingly positive, from both in-person and virtual attendees. Some of the free-text responses are included below:
"Great Algal networking event"
"The tour was fantastic – such diversity on display and it was great to see
what kit is available. Special shout out to the catering too."
"The presentations were really interesting and well-paced, not too long but
informative at the same time. Thank you for organizing the event and making it available for us around the world!"
"Very glad to be able to attend this way at all – excellent opportunity! Very good to include students flash talks and industry perspectives. All together very good diversity of content"
"excellent sound and image quality for online attendees"
"Overall I think this was a fantastic event."
The event also included a session for postgraduate flash-presentations. The students were all linked in some way with CCAP; from supervision by science leads, use of CCAP strains, or use of CCAP-ARIES services. They were all very grateful for the opportunity to present their research projects, and in some cases this was the first time presenting to a live audience.
I asked them to provide some of their personal perspectives of the event:
It was delightful to see so many people excited about the event going ahead at SAMS, especially after the difficulties of the last two years. It was particularly great to see those who worked so hard to run the event rewarded by an engaged audience and well-deserved recognition for their efforts. It was great to see representation of experts from so many places and whilst also reaching those across the world virtually. I started when the ARIES-CCAP project had just been given the go ahead and funding secured, to be present and to observe the development and the achievement of opening the facility is wonderful. – Robert Grisenthwaite – MRes student SAMS
The CCAP-ARIES launch was a great in person event that brought science and industry together in a friendly and accessible way. I led one of the groups around the different labs which was a nice way to interact with the visiting delegates and show them the vast array of facilities we have for algal research here at SAMS. I had some fascinating conversations with people from previous algae events and I also met new contacts that I hope to keep in touch with.
I was lucky to have the opportunity to present at this event and share my findings from the experiment that I carried out in the CCAP-ARIES reactors. It was the first in person presentation I have had given since the lock down and it was a good way to spark conversation with the other delegates afterwards. – Eleanor Wood – PhD student SAMS
CCAP-ARIES launch was an amazing event. It opened new directions to algal biotechnology research. I guess through the academic talks, the attendees managed to get an overview of the potential of this venture and its wide range of application. At the same time, student talks supported that potential by showing the extend of research that can be supported by the CCAP-ARIES center. Also, I got an opportunity to interact with algal experts and students from other universities. The event was perfectly organized. – Leena Pushpam – ACES MRes student SAMS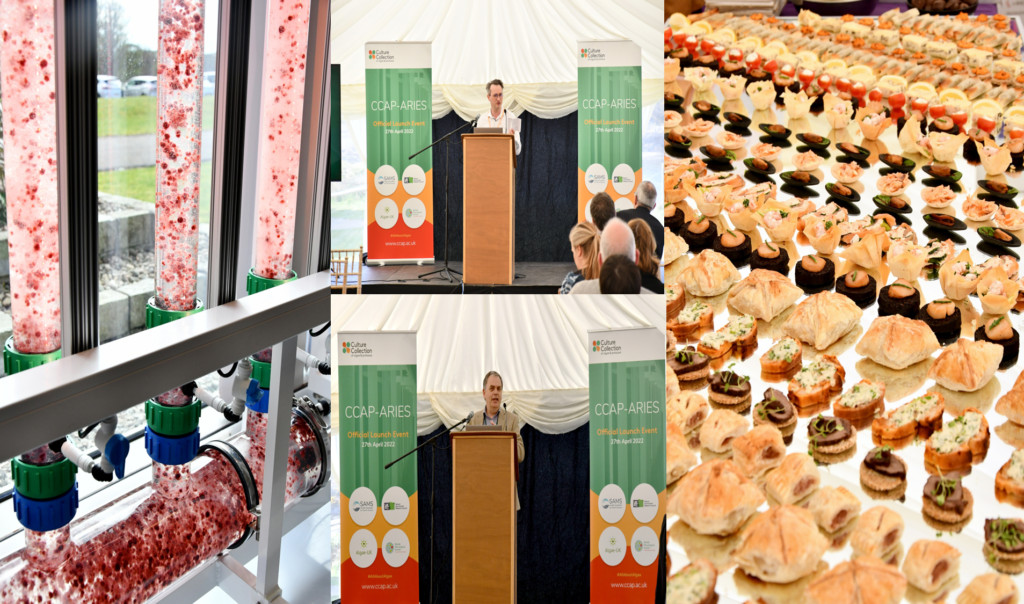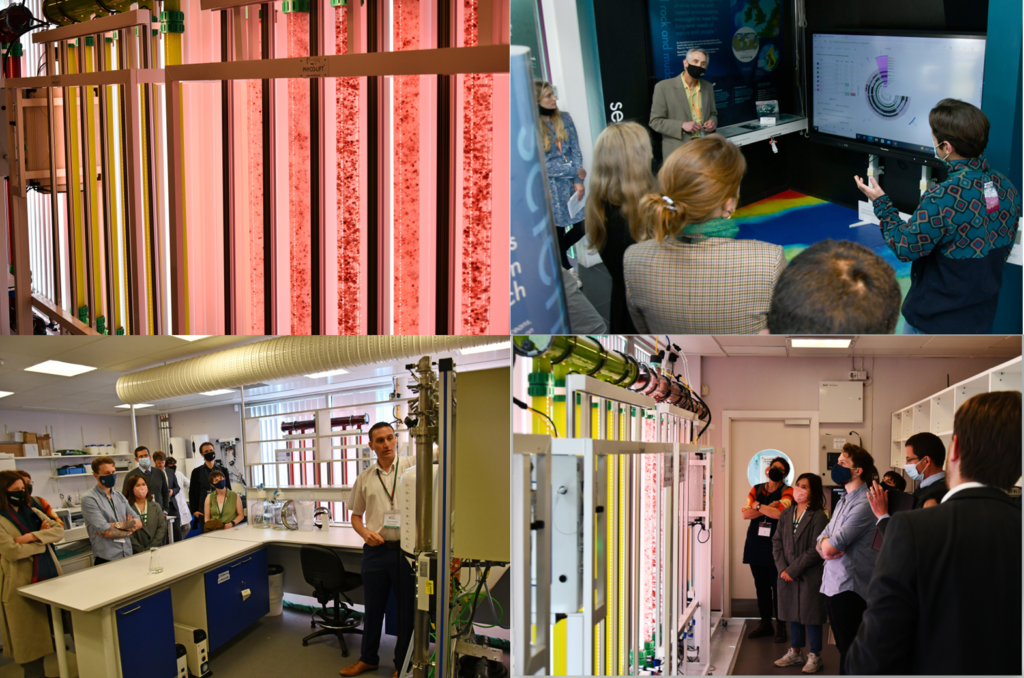 CCAP-ARIES Background:
CCAP is one of NERCs longest running and established service facilities, delivering biological samples and impactful science to academic and industry researchers around the globe. The demand for our services is increasing alongside the needs of the community and stakeholders as Algae are an integral part of the UKRI green growth and blue economy, net zero carbon and environmental and ecological science initiatives and calls.
In response to this need, the CCAP's Algal Research, Innovation and Environmental Science centre (CCAP-ARIES) was developed to enhance and complement the culture collection and centralise research and service provision around increased cultivation capacity of algae, increase the on-site analytical, genomic and metabolomic capability that supports algal research in the user community, and deliver advanced training to UK and international researchers. This was fully supported by just over £0.5 million funding from NERCs World Class Large-scale Research Infrastructure scheme, in late 2020. Throughout the last year, we have been purchasing, establishing, and beta-testing the equipment and work-flow processes. 
CCAP-ARIES in the Press:
A flurry of press and broader dissemination also coincided with the CCAP-ARIES launch event. These are outlined below:
Sustainable Scotland: Cutting-edge 'Amazon for algae' launches in the Scottish Highlands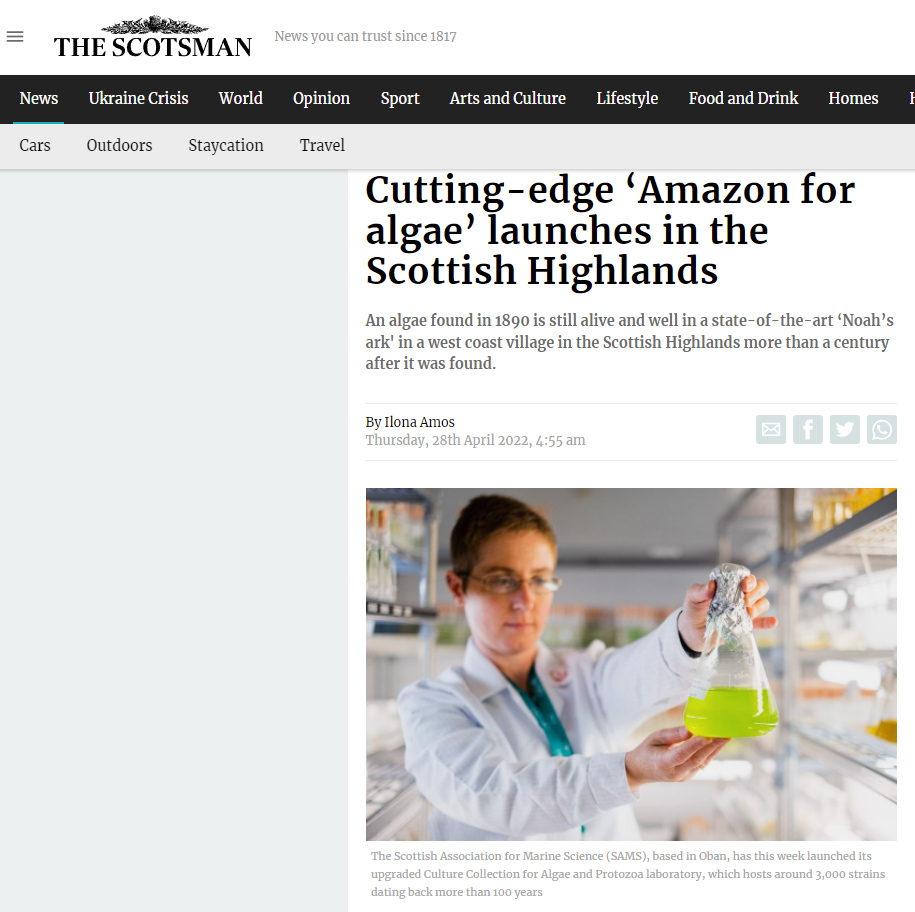 Scottish laboratory opens new centre to unlock algae potential
Scottish Culture Collection opens new centre
BBC Alba
Mikey Ross was also interviewed for an episode of An La, BBC Alba's current affairs program, which aired on the 27th of April.